Haha, I am the worst blogger ever. I think this stems from the fact that it literally takes me hours to finish composing something. Blame squirrel! syndrome – there be cat videos that need to be watched and patterns on Ravelry to troll.
However, I feel like I should make a concentrated effort on blogging again, not because I feel like I have any sort of audience, but because I think it'll be cool to look back at on all the things I've done. It'll be a comfort for me when I'm curled up on the couch one Saturday morning, having done nothing that day but pet my cat and read forums. I'll say to myself, I may be a slovenly slob today but dammit, I made a bombass shawl a week ago.
With that mind, let us begin!
I'm pretty much a beginner sewing…person. Sewer? Sewist? That sounds kinda odd. Seamstress? The thing with the sewing machine! I've made a few costumes that are mostly in dress form, which is nice because no one expects costumes to stand up to every day wear and tear. So don't expect fancy corsets or bustles from me, quite yet! I also don't practice as much as I should, mostly because sewing takes so much room and requires so many fiddly little notions. With knitting, you pick up your needles and yarn and you're ready to go. For sewing, you have to pick your thread and bobbins, hook up the machine, pin and cut the pattern, get out the ironing board…gah. However, once I get started, I pretty much don't stop until it's time for bed. I really want to make an effort to develop my skills because it'll be really neat to create fancy costumes and pretty dresses. One day!
I spent yesterday banging out a pair of pajama pants for the manfriend. It only took me six months since the fabric was purchased, but hey, better late than never? He really wanted those pants, though. He loves the previous pair I made, proclaiming that he never had a pair of jammie pants that fit properly since he was too tall.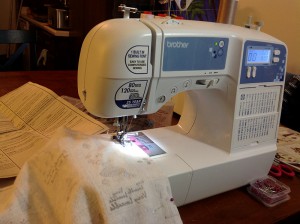 I used the pattern Butterick B5153. This pattern was a lesson in learning to read the pattern envelope a little more closely before purchasing. Even though the picture and illustration seemed to indicate it was a drawstring pant, it's really an elastic waistband with a fake bow sewn onto the front. For flair, I suppose. It's also a fairly poofy pair of pants, which I probably should have noticed from the pattern picture. Oh well, no one ever accused me of being visually observant.
I took the opportunity to learn how to create side seam pockets, following this tutorial. It was surprisingly easy, and something I'll probably do in the future. Most of my store bought jammie pants don't have pockets, which makes me really sad when I go outside to the laundry room. Also, if I want to truly slob it up college student style, I need to have pockets for my phone and keys as I go out to get my midnight boba.
So, yay, finished project that looks halfway decent on the outside! I'm definitely not showing any pictures of the seams and my serging. I'm always amazed at the perfectly straight and even seams on other blogs, or heck, when my mom was a professional seamstress. Mine are kinda embarrassing at times. (Most times.) Let's just say, I'm thanking the little fishies that Fray Check exists. However, I think my serger skills are slowly improving – I did my first inside corner with the serger, so maybe in fifty garments' time it won't be shameful!
Maybe.